Toddlers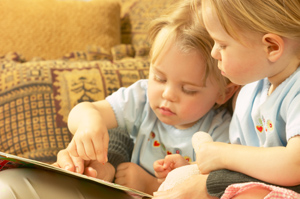 To prevent tooth decay and periodontal diseases, tooth brushing and flossing are needed daily to remove harmful plaque from your child's teeth.


Look for a toothbrush that bears the ADA seal. They have been shown to be safe and effective for their intended use. The advertising claims for these products have been reviewed by the American Dental Association and the claims are accurate and not misleading.


Ask your dentist to recommend a toothbrush for your child. Children need smaller brushes, specially designed for them. Generally, a brush with soft, end-rounded or polished bristles is recommended, since it is less likely to injure gum tissue.


Check your child's toothbrush often and replace it when it is worn out. Bent or frayed bristles will not clean plaque from your child's teeth and they can damage gums. The ADA recommends replacing toothbrushes every 3 months.


Brushing removes plaque from the inner, outer, and chewing surfaces or the teeth. Select a fluoride toothpaste with the seal of the ADA.


Children under six years of age should clean their teeth with a pea-sized amount of fluoride toothpaste after every meal and at bedtime.


1. Holding the toothbrush bristles at a 45-degree angle against the gum line, move the brush back and forth with short strokes - half a tooth wide - in a gentle, scrubbing motion.


2. Brush the outer surfaces of all teeth in the upper and lower jaws. Repeat the same method on the inside surfaces and chewing surfaces of all the teeth.


3. Finish by brushing the tongue to help freshen breath and remove bacteria.


4. Use about 18 inches of floss, wind most of it around the middle fingers of both hands. Hold the floss tightly between the thumbs and forefingers. Use a gentle, sawing motion to guide the floss between the teeth.


5. Curve the floss into a C shape and slide it into the space between the gum and the tooth until you feel resistance. Now, gently scrape the floss, in and up and down motion, against the side of the tooth.


6. Repeat this procedure on each tooth. Don't forget the backs of the last four teeth.


Flossing removes plaque that hides between the teeth and under the gum line, areas where a toothbrush cannot reach. Supervising your child while he or she brushes and flosses will ensure that a proper job is done.