Taking Care of Your Bridge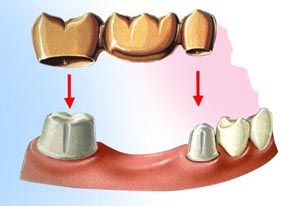 A bridge is made of very strong materials, but nothing as strong as natural tooth structure. If normal care and precautions and care are taken, a bridge can last for many years.

- Brush and floss with great care to clean where the crowns meet the tooth.

- Flossing must be accomplished underneath the bridge on a daily basis.

- Avoid eating or chewing on hard objects, food, or ice.

- Make regular visits to your dentist to evaluate the condition of the crowns.